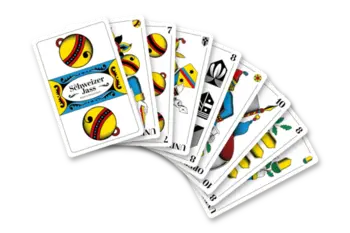 Do you like to play Jass, then this is for you!
We no longer look for a champion and you do not have to be a pro, we will strictly play a
social, friendly, and relaxed game
We play the Schieber (no Wys) as we always did
Cost: $2 (for miscellaneous expenses)
Location: Agincourt room at 3131 Bridletowne Circle, Toronto (near Finch and Warden); free parking at the back of the building.
Time: 1 pm to approximately 5 pm
Free coffee and tea will be available. No other drinks will be available, so if you like, you can bring your own.
The Swiss Club Toronto is continuing to pay the rent for the location. With this, I encourage you to become a member of the club. So, come on out and bring a friend who likes to play also.
I am always open to receiving suggestions and comments.

To be able to have complete tables, it would really be appreciated if you would contact me prior to the date. This way, no one will be left out to play.